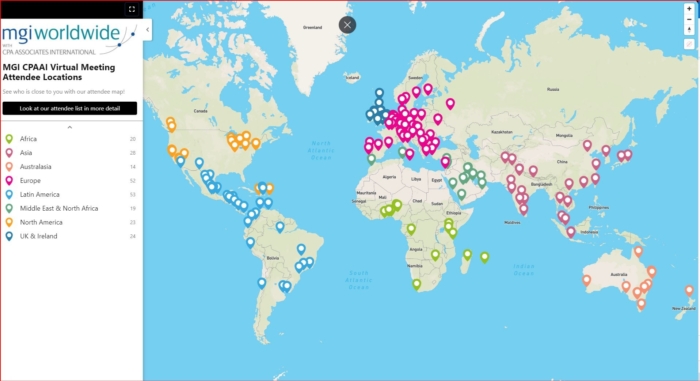 Accountancy in Sweden with global network
Revideco – Accountancy in Sweden – connected to the rest of the world.
Yes, we have now accepted that Sweden might not be the center of the universe. But did you know that we can be considered the center of the world? Or at least center of (wow the Danes, Finns and Norwegian will dispute this to death and beyond) the most Northern of the European Countries. Is this fake news? No, not at all, not when it comes to global access to accountants, auditors and specialists.  🙂
No, No, NO, that's not possible…or is it?
Yes of course it is!. As members of MGI Worldwide we are connected to a network of 100+ countries, 450+ offices, 9000+ professionals. MGI Worldwide with CPAAI is a major international accounting network and association of independent audit, accounting, tax and consulting firms, with a secure position firmly in the top 20 global rankings of networks and associations.
Local: Global: Personal
We at Revideco cooperate with accountants, chartered accountants, CPAs, CFOs and shared service centers from all over the world. We are accustomed to providing information on Swedish law, Swedish GAAP, and specific Swedish regulations. Our aim is to find the most efficient solution for each and one of our clients.
And with MGI this is easy.
Audit and Accountancy in Sweden – Global reach to a competent service provider
We at Revideco are not one of the big accounting firms but we do have ample resources at our 4 offices. We are a 60 staff strong team consisting of auditors, accountants and payroll administrators and have provided qualified accounting, audit and consultancy services since 1994.
We all help our clients to compete, grow and succeed on the global arena.
Annual General Meeting 2021
Darn Corona. Let's say that pre-corona AGMs and EGMs included a few more hugs, banter (and beer). Nevertheless, it is a sheer joy to meet up with friends and colleagues from all over the world.
As you can see in the picture above, the participating members during this years AGM is spread all over the world. The virtual conference made it possible, despite the challenges the world is facing at these times, to network and to discuss various matters such as cryptocurrency, the future of the office, how to find and preserve business opportunities and collaboration etc.
Successful global team
Me and Erik Emilsson, both partners at Revideco, participated at the 2021 AGM. Maintaining old contacts and creating new ones. We at Revideo are happy that so many international clients have been referred to us by the delegates of this AGM. We are very proud that we as a global team have been able to successfully provide service to our clients. By doing so, we add Sweden to the global reach of our network, and as we see it, the center of at least the Northern European Countries. 🙂
The right choice alternative to the larger accounting firms
Now, within MGI we are all independent firms backed by our global network. We offer a more personal and cost-effective solution for clients looking to switch from a larger accounting firm for all their audit, tax, accounting, and business consulting needs.
And in one sense, one and each of our members are the centre of the world,  when it comes to global access to accountants, auditors and specialists. Is that global access? Yes, oh yes, it it is.
To sum up
Revideco AB is a independent one-stop-shop for advisory, accounting and audit services in Sweden. If you are interested in finding out more about the services we provide in Sweden please, click here You can find client testimonials, international contact persons, as well as a guide on how to set up an entity in Sweden.
If you would like to know more about MGI, please call us, or visit www.mgiworld.com or if you would like to find our MGI colleagues in other countries, click here.
Authorized Public Accountant
Caisa has over 30 years' of experience in audit and accounting and has a diverse portfolio of clients, ranging from owner-managed businesses to large groups, international companies  as well as listed companies.
E-post: caisa.westin@revideco.se