Swedish auditors in search of more international business – MGI Nordic Circle Meeting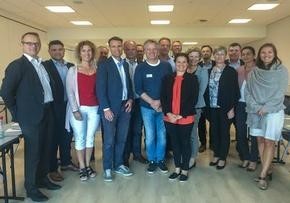 MGI is a global association of independent audit, tax and accounting firms, of which Revideco is a member. This year's MGI Nordic Circle Meeting was held in Oslo, Norway, and was attended by 16 delegates. Revideco was represented by Erik Emilsson, Jenny Holmström and Caisa Westin. Traditionally managers and partners from each Nordic memberfirm attend the meeting. This year four new partners were present.
The objective for this year's meeting was to visit the MGI Revisjon Asker office, discuss ideas of collaboration as well as any constraints, and to listen to an inspiring presentation about the future of accounting.
Jenny Holmström, partner from Revideco Stockholm, comments "Revideco provides accounting and auditing services to a broad spectrum of international clients active in Sweden. The delegates of this meeting are often the ones that refer international clients to us. As we are interested in more international business it is important to me that we are represented".
Caisa Westin, partner from Revideco Göteborg, continues "Many of our Swedish clients presently work in an international environment and the delegates of this meeting are often their first contact when they venture abroad. To me it is important that my clients perceive this first international contact as positive, and that is why I attend the meeting".
For more information concerning our membership in MGI, please visit our website Revideco.se.
Are you interested in meeting with one of our Swedish authorized public accountant like Jenny, Caisa or Erik, please contact us here.